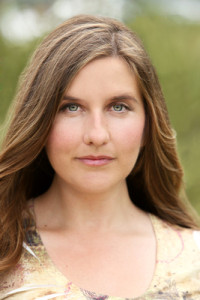 Short bio: Jessica Cluess is a writer, a graduate of Northwestern University, and an unapologetic nerd. After college, she moved to Los Angeles, where she served coffee to the rich and famous while working on her first novel. When she's not writing books, she's an instructor at Writopia Lab, helping kids and teens tell their own stories.
Long bio: This probably won't be very long, because most of my life is spent sitting in dark rooms, writing and hissing at the sun. Clearly Los Angeles was a superb choice for a hometown, because there's plenty of sun to hiss at.
As a kid, I sort of knew how to skateboard. My list of impressive accomplishments dies there.
In high school, I didn't hang out with the cool kids, but I was in their AP classes.
In college, I finally found a group of people who have seen Eddie Izzard's stand-up concert 'Dressed To Kill' and I knew I'd discovered my tribe.
After college, I had an assortment of odd jobs. I performed Cinderella for most of Texas, moderated a radio news site, served coffee to Orson Scott Card and was probably working for the NSA at some point. It was a sketchy time.
Throughout these years, I wrote many bad things. Then I wrote something that was okay. Then, with the help of some friends, I started writing things that were kind of good. Hopefully, I keep going.
Final thoughts: if you haven't seen Bram Stoker's Dracula, get on it. That movie is wonderfully insane.
Interviews: Bustle
Reviews: USA Today